In this week's material handling equipment in movies, we discover an entire warehouse in the spotlight. In an effort to solve his aunt's murder, Irwin Fletcher played by Chevy Chase infiltrates this chemical material handling company.  As Irwin struts with authority through the warehouse, let's highlight the different material handling equipment and warehouse safety products we find.
Give credit to all the warehouse employees wearing their hard hats!
All the safety lights are up and running!
That pallet rack is ready for pallets!
Proper warehouse safety gates are installed to separate dangerous areas!
Dozens of pallets are doing a fantastic job in the spotlight carrying large loads.
5s caution signs are properly placed to prevent unauthorized entrance.
That forklift is doing an excellent job transporting palletized loads.
Protective safety suits ensure your body doesn't whistle while you walk.
This warehouse seems to do a good job with accident prevention. However, our guides on running a safer and more efficient warehouse will ensure you can go more than one day without an accident!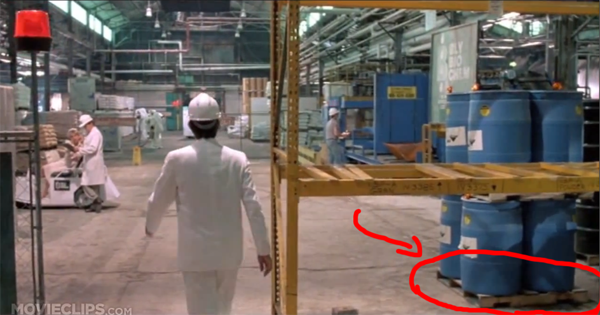 Be sure to tune in next week for more Material Handling Equipment in Movies!

Previous Movies with Material Handling Equipment