Freezer Spacers – Video Transcript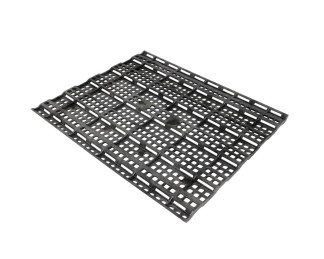 Hello, and welcome to the Premier Handling Solutions video series on running a safer and more efficient warehouse. Today, we'll be discussing the importance of "Freezer Spacers", a relatively small, but vital component to material handling when the freezing of handled goods is necessary.
The Importance of Freezer Spacers
Freezer spacers are commonly used during the food handling process to speed up blast freezing. Simply placing a freezer spacer between each layer of goods on a pallet can reduce the amount of time needed for blast freezing by 30%. The space between each food layer allows the cold air to circulate through the load more efficiently.
Freezer spacers also help to reduce buildup of water during the thawing or washing phases of food handling.
Their easily nestable design saves space and money too! Freezer spacers are a great alternative to using steel racks as they use less space, require less manual labor, and have less cost associated with them. The spacers can also be easily washed for re-use with a power washer or a simple scrubbing.
How to Use Freezing Spacers
Using freezer spacers is as easy as pie! Simply place a freezer spacer between each level of goods as you pack them on a pallet. You can see this in the image behind me. With the spacer between each packed layer, more air can circulate through the palletized load, allowing for the goods to freeze more quickly and efficiently.
And there you have it! Freezer spacers are essential when handling food products that require freezing during the material handling process. Thanks for stopping by our blog and be sure to check back often as Premier Handling Solutions discusses more ways to run a safer and more efficient warehouse.
Visit PHS Plastic to find the best freezer spacer for you at the best price.