5S Signs Video Transcript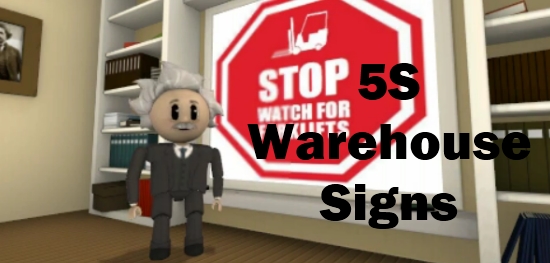 Hello, and welcome to the latest addition to Premier Handling Solutions' video series on running a safe and efficient warehouse. After spending the last two weeks discussing what 5S is and some steps you can take to implement 5S around your warehouse using floor tape, we're expanding even more on 5S, explaining how you can use signage around your warehouse to make it safer and more efficient. If you're unclear on what 5S is, please be certain to go watch that video before continuing to signage.
The goal of these signs is to have everything in your warehouse clearly marked, making sure your employees understand your processes and workflows and abide by them. Without further ado, here's how you can use signage around your warehouse to supplement your 5S efforts.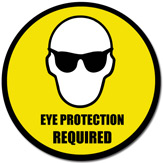 Premier offers a wide array of bright, circular signs to hang around your warehouse to increase safety. These signs help alert workers when eye protection, hard hats, breathing protection and more are needed in work stations in your warehouse. Combined with a strong 5S plan, these safety items should be right by the work stations, making everything run very smoothly. The signs are a simple peel and stick process to install on your warehouse floors and can endure foot/forklift traffic and are UV Fade resistant.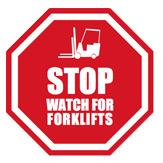 We have pretty much every style of STOP sign you can imagine, from signs in Spanish to signs to alert workers of forklift traffic. Like our other signs, these STOP signs are very simple to install on your floors and can withstand the everyday traffic that goes through a warehouse. From 12" to 32" our signs are the perfect size for any warehouse.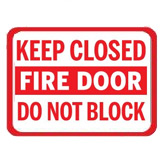 Our rectangular signs are extremely versatile and can be used for a variety of purposes. The signs are big and red, alerting your warehouse's employees where exits, emergency routes, fire extinguishers and much more are, so they can safely navigate through the warehouse in case of emergency. All great things for helping to ensure an efficient and safe warehouse! These signs even work great on floors that are in less than ideal condition, require no dry time, cure time and don't emit fumes.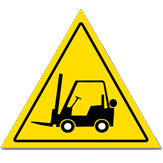 Big, bright and yellow, our triangular warehouse signs are great for ensuring a smooth workflow through your warehouse. The floor signs can be used to mark pedestrian walkways, forklift paths, areas of high voltage and much more. These signs can help you avoid accidents and keep your employees safe.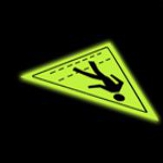 All of our 5S peel-and-stick signs are also available in glow in the dark versions. These signs are great for marking evacuation routes and exits to your employees if there is a power outage.  Just like our other signs, they come in a variety of sizes, can withstand all the daily rigors of being on a warehouse floor, are extremely simple to install, without any fumes, dry time or cure time, and can stick to floors that are in less than perfect condition.
Premier Handling Solutions offers a wide array of signage for your warehouse, including everything mentioned in this video, to help your warehouse run more safely and efficiently. Be sure to click around and read our previous video entries to learn more!