We all know how attractive stainless steel sinks, countertops, refrigerators, and other appliances look on a showroom floor. But many consumers don't realize how involved the process for maintaining stainless steel can be. Fingerprints, scuff marks, scratches, and grime can accumulate on stainless steel and significantly impair the beauty of your kitchen or bathroom.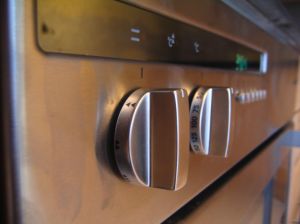 If you are cleaning larger stainless steel products, using home cleaning techniques might not be ideal. Food processing plants and warehouses as well as medicine manufacturers have used stainless steel equipment for decades. These warehouses have had plenty of time to experiment with various ways to clean stainless steel. More efficient methods of cleaning industrial stainless steel products like grinders, kettles, and tumblers are available.
If your stainless steel equipment comes into contact with food, it is required that you use food-safe cleaning methods. Some surfaces can be cleaned with aggressive chemicals to remove scratches and scuffs, but might not be food safe.
Here are the best ways to clean stainless steel, broken into two categories: Food-Safe and Non-Food-Safe.
Food-Safe Stainless Steel Cleaning:
Water – Apply and wipe dry with a microfiber cloth. Simply use a damp cloth and wipe the stainless steel surface. Use a dry cloth to wipe off any water. It is essential to not let the water dry on the stainless steel. We recommend cleaning small areas at at time to ensure no water spots get left behind.
Soap – Use dishwashing soap and water to create a mild cleaning solution. Simply apply and wipe dry with a microfiber cloth.
Vinegar – Vinegar utilizes a more acidic and potent chemical makeup that is more aggressive than water, all while remaining food safe. Simply apply and wipe dry with a microfiber cloth.
Food Safe Chemical Cleaners – Some aggressive cleaners are specially designed to be used for food processing products. Pay attention to labels and ensure food safety.
Dry Ice – Some companies use special machines that use dry ice to practically melt gunk from stainless steel products. These systems are much more expensive, but would be an excellent option for larger operations.
Non-Food-Safe Stainless Steel Cleaning:
Window Cleaner – The chemicals in window cleaner make it a cheap and excellent product for cleaning stainless steel. The cleaning potential of window cleaner is better than water, but cannot be used for any appliances that might come in contact with food. Simply apply and wipe dry with a microfiber cloth.
Aggressive Stainless Steel Cleaners – Special cleaners have been formulated to significantly improve the look of your stainless steel. However, many of these cleaners are not food safe. Pay attention to the labeling!
All of these cleaners have provided excellent results. Gauge your application and determine the best cleaning product for you!
Be sure to stop by often for more tips on running a safer and more efficient warehouse!