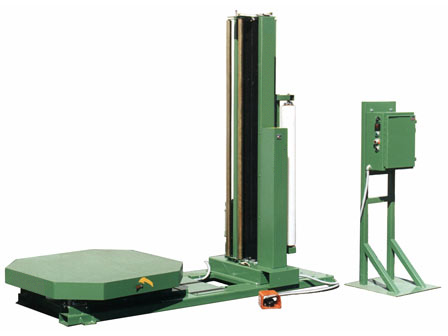 What is a Stretch Wrapper?
A stretch wrapper is a high-performance automatic or semi-automatic machine that uses a large turntable to rotate loaded pallets while they are tightly and securely packaged with a plastic film for a more efficient shipment.
The turntable has a heavy weight capacity and rotates as an adjustable plastic film roll quickly packages the load, saving a boatload of packaging time and providing extra protection for your product. The Synergy® models are specifically designed to have a longer film stretch limit as well as a higher wrap height limit.
With a control panel that is more simplistic than you could ever imagine, stretch wrappers are easy for anyone to use. Just one push of a button is all it takes to adjust the level of the film stretch length and height to match the size of the loading equipment, and another button to start the machine. These machines will last nearly a lifetime, making it that much more cost-effective for your company.
Industries that use stretch wrappers include:
Food and Beverage
Chemical
Retail
Packaging
Pharmaceutical/ Health product
Medical Supplies
Transportation
Automotive
…Any industry that puts product on pallets to ship!
Why are Stretch Wrappers Important?
Saves time (and money!)
Makes shipment more tamper resistant
Unitizes pallet loads for better organization
Extra dust, moisture, and UV protection
Most secure way of shipping (less product damage)
Reduces stress and work-related injury
How to use a Synergy Stretch Wrapper
Step 1. Load pallet onto the turntable using a forklift truck
Step 2. Adjust film strip length, speed, and height to match loading equipment size using the control panel
Step 3. Tie the end of the film strip to the bottom corner of the pallet to secure the film before you begin your wrapping
Step 4. Press the start button and watch your load wrap in under two minutes. A sensor will stop the machine automatically
Step 5. Your package is ready for shipment. Use a forklift truck to remove the newly packaged load from the turntable to desired location
The Synergy® models are among the several stretch wrapper models we have here at Premier Handing Solutions. It doesn't get much better than maximum-performance, cost-effectiveness, safety, speed, reliability, and versatility. There are no downfalls to using this type of product; in fact, you could be hurting the overall success of your business by choosing not to work with stretch wrappers.