The Most Dangerous Jobs in the US – Video Transcript:
Hello, and welcome to the Premier Handling Solutions video series on running a safer and more efficient warehouse. Today we're going to be discussing the most dangerous jobs in America, the biggest hazards facing American workers, as well as the most dangerous situations warehouse workers can find themselves in.
Title Card: What Are the Most Dangerous Jobs in America?
Over the past twenty years, workplace fatalities have dropped 25% to roughly 3.5 fatal injuries for every 100,000 full-time workers. Through programs such as OSHA and better hazard awareness and prevention, Americans have made great strides in ensuring safer workplaces. Unfortunately, accidents still do happen though.
When it comes to HOW American workers die, the most common cause of death is transportation incidents at 40%. Assaults and violent acts are next at 18%, followed by contact with equipment and object (for instance being struck by an object in a warehouse) at 16%. Falls, hazardous exposures and fires/explosions round out the rest of the causes for worker fatalities. Falls in particular are dangerous in warehouses, as 20% of fatal falls occur from ladders.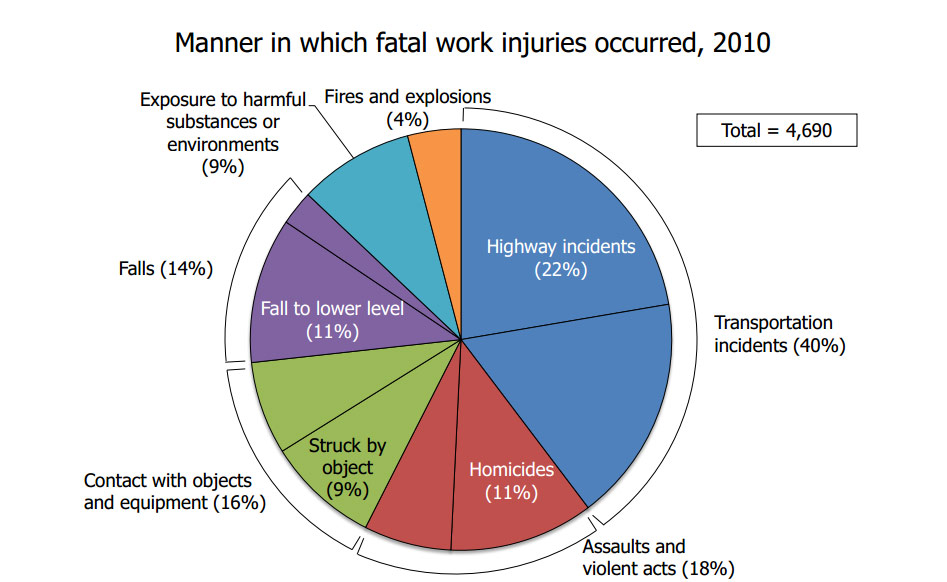 Transportation and manufacturing/warehousing industry had the most fatalities of any American industry in 2010 at well over 1000, which comes out to a rate of fifteen fatal injuries per 100,000 workers. In that specific industry, industrial machine operators have a fatality rate of 21 fatalities per 100,000 workers.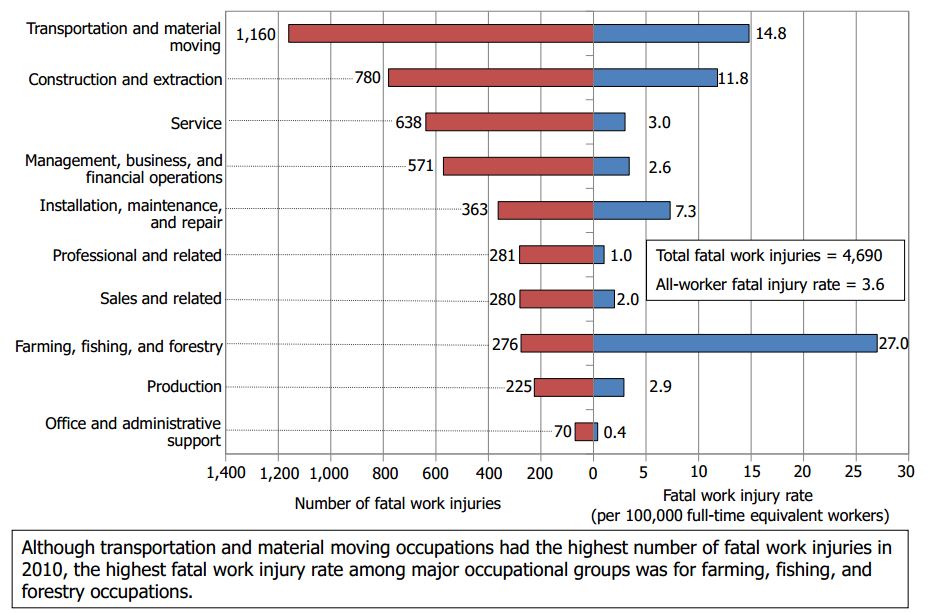 While no industry can match the total number of fatalities, there are more dangerous professions in America. Fisherman have a fatal injury rate of 150 per 100,000 workers, loggers are at 93 and farmers at 43 fatal injuries per 100,000 workers. Miners, police officers and roofers are also more dangerous jobs.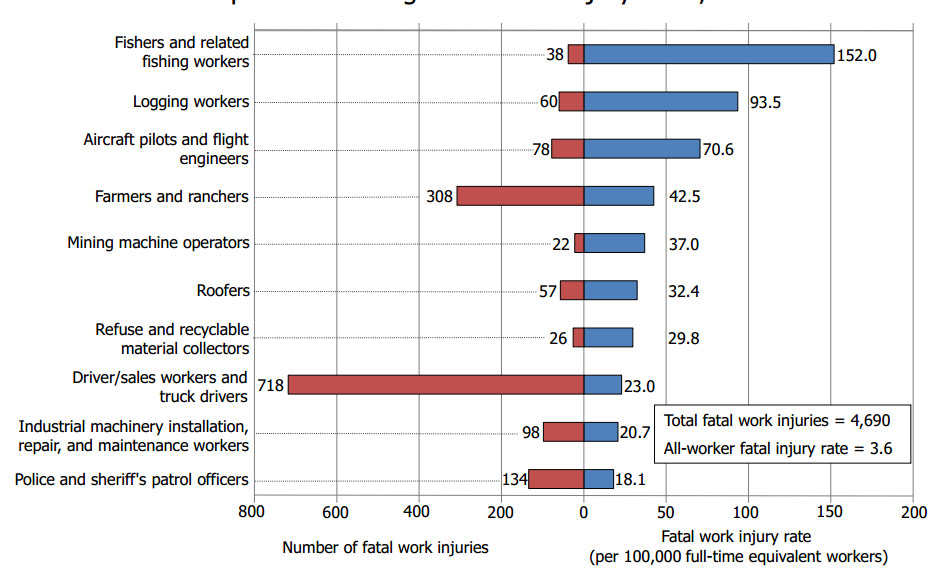 As you can imagine, certain industries are safer to work in than others. Educational workers have a fatality rate under one per 100,000 full-time workers and government employees have a rate around two per 100,000 full-time employees.
As an interesting side note, women worked roughly 44% of the 250 billion-plus hours put in by full-time American workers, but only accounted for 8% of workplace fatalities and were nearly three times more likely than men to be killed due to assaults or violence. Workers over the age of 65 are also three times more likely than the national average to have a fatal injury while working.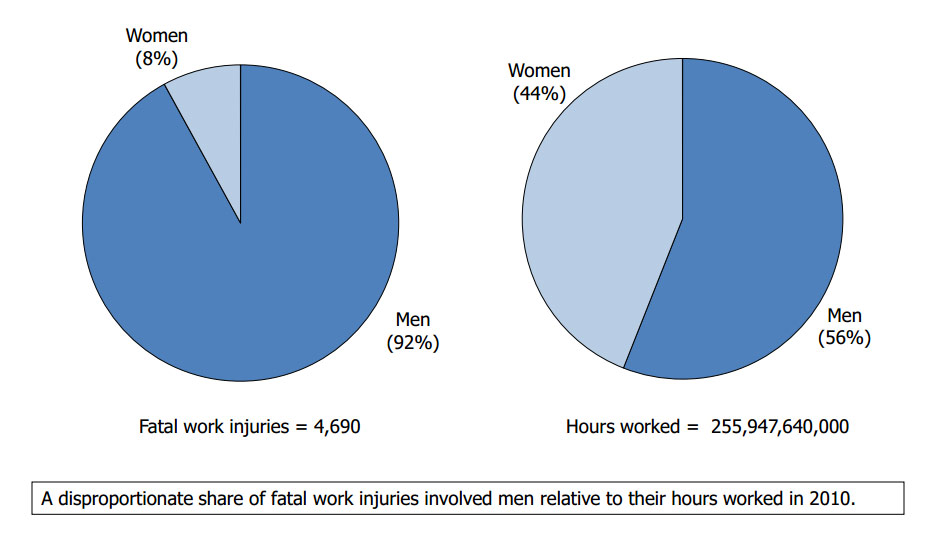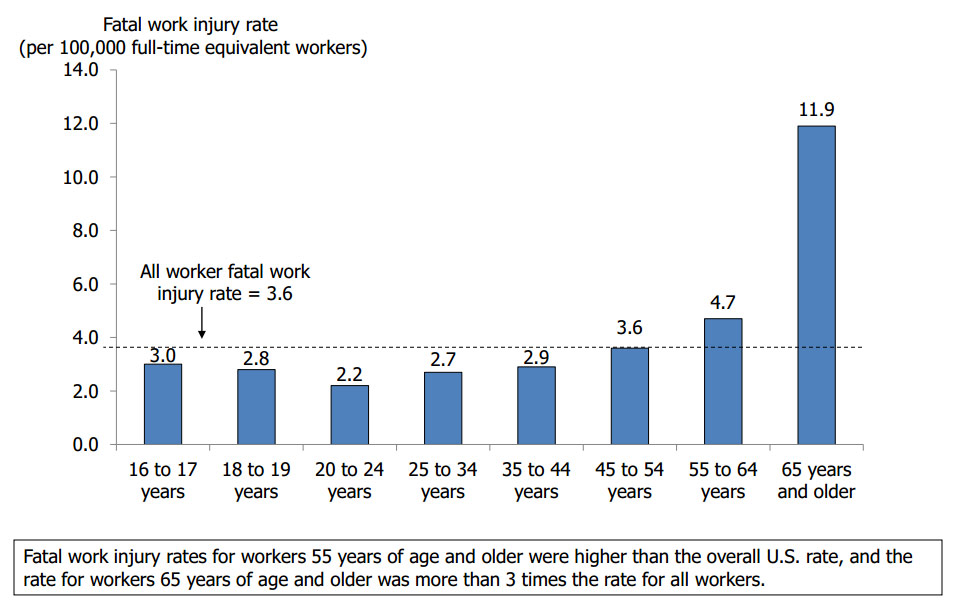 Thank you for stopping by to watch our videos on running a safer and more efficient warehouse. Be sure to browse through our archives to see more ways to keep your employees safe, like our forklift safety and ladder safety videos.