Learn more about how you can use floor tape to help implement 5S around your warehouse in the video below!
5S Floor Tape Video Transcript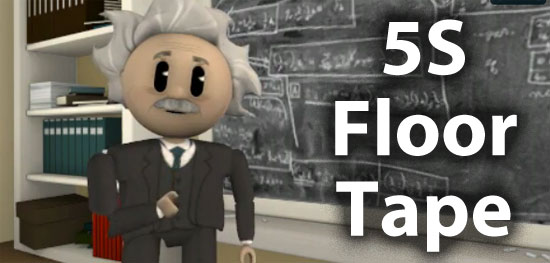 Welcome to another educational material handling video by Premier Handling Solutions. Today I'm going to go over how to use 5S floor marking tape in your workplace.
As a general rule of thumb, anybody who walks into a workplace, should be able to identify the flow of work being completed in under a minute. One of the most effective (and easiest) ways to accomplish this goal is through the use of floor tape. For 5S, properly using floor marking tape can create an order and pattern of work in your warehouse, which helps to eliminate searching and confusion around the work area.
To standardize floor markings and enhance 5S initiatives, warehouses can use the 5S floor marking color guidelines.
Let's go over some 5S floor marking color guidelines and best practices. It's best to use as few colors of floor tape as possible. Fewer colors will make it simpler for your employees to remember what each color means and reduce the amount of floor tape in inventory. You should identify colors with specific work purposes. When a warehouse differentiates between colors by marking specific work areas, it creates a visually clear environment that helps employees quickly match up colors and purposes. Floor tape colors should be consistently used and can greatly help increase your efficiency.
You can also use different colored floor tape stripes to border areas in front of safety equipment, firefighting equipment or electrical panels. Be sure to just use one specific floor tap color/pattern to mark off any areas where the main purpose is to keep that area clean for compliance and safety issues.
I hope that I have helped you understand how to best use tape in your workplace. Be sure to visit Premier Handling Solutions for more warehouse products.