Material handling equipment isn't some new phenomenon – even centuries before us, warehouses around the globe have been using some means of transferring product to and from their assembly lines and production facilities. Granted, some have been more crude than others, and some industries have chosen to stay true to (at least a few) old ways of doing things. Case in point: breweries young and old in the United States. The impact of material handling equipment on the production of beer has been nothing short of staggering, while efforts are still made to stick to some of the original processes. Below is a brief comparison of beer production in the early 1900's in the US to that of modern day production.
Late 1800s-Early 1900s
While some insist that the early brewing process was rudimentary in nature, it's these basic principles, migrated from all over Europe, that have made beer production the behemoth it is today. The material handling equipment of the day, while not extensively advanced by any means, was important. Brewing pots, refined glass bottles, and beer kegs were used in conjunction with hand-made transfer equipment. Consistency was a difficult concept to early brewers, as there were always several different external factors that determined the quality of the beer (origin and quality of ingredients, brewing process consistency, weather factors, etc). Taking advantage of the rail system, some brew companies often used rail cars to transport refrigerated beer bottles across the country, effectively becoming a national brand. Beer production in this era was on the rise – in 1914 alone, over 2 million gallons of beer were made for mass consumption in the United States!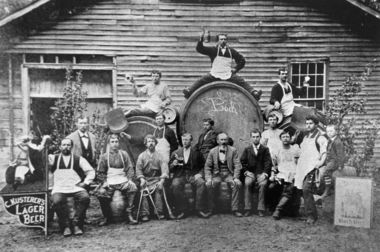 A brewery in Grand Rapids, MI, celebrates the release of a new lager in 1876.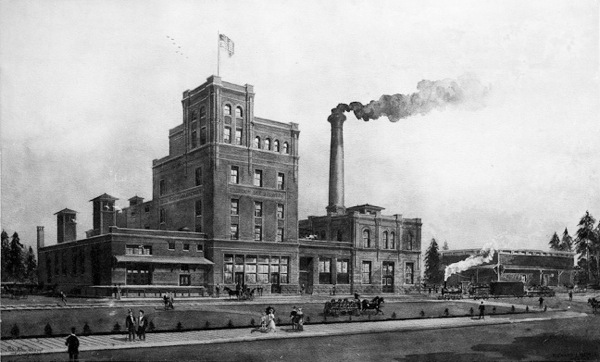 Bellingham Bay Brewery, operated from 1902-1916 in Whatcom, WA, housed some of the most advanced scientific appliances of the day in its brewhouse and cellars.
Modern Day
Today the brewing process, especially for the largest brand name breweries, is near the peak of efficiency and consistency. Material handling equipment is an integral part of the production process – conveyor belts, packaging systems, and automated machinery that does everything from sift to mix to pour have helped these processes evolve. To drive the point home, Anheuser-Busch (based in St. Louis, MO) produces over 6 billion gallons of beer every year on its own – compare that to where US production was just 100 years prior!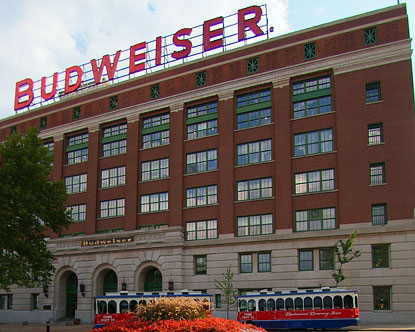 Where Budweiser is perfected daily – the Anheuser-Busch plant in St. Louis, MO.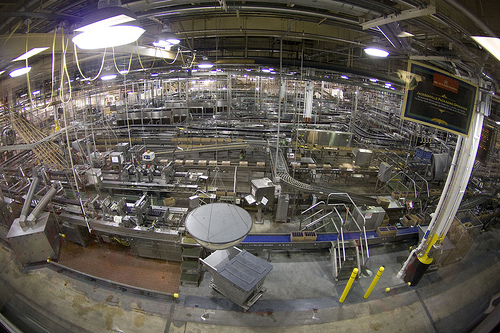 A mere glance at the Anheuser-Busch production facility.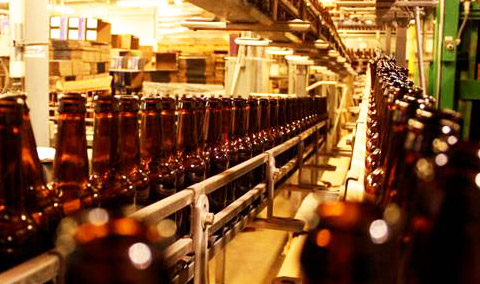 A centuries-old process culminates in refreshment for millions.